On Saturday, TFK ventured out to combine two of our favorite things – sugar and booze – at Can't Keep 'Em Apart - A Beer & Chocolate Love Storypresented by Taza Chocolate and Drink Craft Beer. We were treated to four chocolate tastings paired with some unique craft brews and were able to benefit from the wealth of knowledge of the attending hopheads and cacao nerds.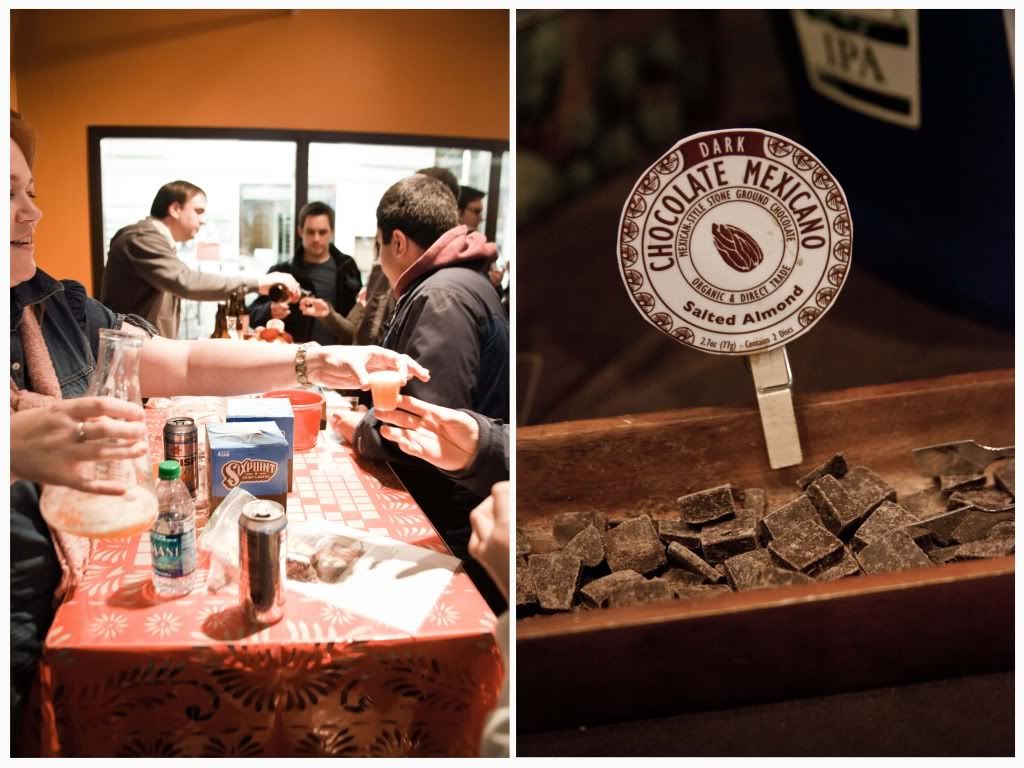 Plus, the entry fee was a super reasonable $3 donation which went to the Greater Boston Food Bank, meaning that every attendee provided 7.5 meals to the less fortunate.
Onto the pairings…
#1: Narragansett Porter with Taza Mexicano Coffee Chocolate
The Narragansett Porter is a reroll of an old-school recipe from the brewery that is much different than the light 'Gansett lager we have all poured down our throats with much gusto at various Boston bars. This felt like a much easier drinking, maltier porter than you sometimes run across, making it a pleasant pairing with the sweet Mexicano Coffee Chocolate instead of overwhelming it.
#2: Peak Organic Oak Aged Mocha Stout with Taza Mexicano Salted Almond Chocolate
Peak Organic, produced in Portland, ME, really gave some thought to the locavore population with this brew, incorporating organic Sumatra from Portland's Coffee By Design, a handcrafted, micro roasted coffee shop, as well as Taza's Somerville, MA, product in their Oak Aged Mocha Stout. The brew is aged on French oak spirals, which imparts more of a vanilla note than the smokiness/ashiness that stouts sometimes carry, which blended perfectly with the sweet-meets-salty Salted Almond Chocolatefrom Taza.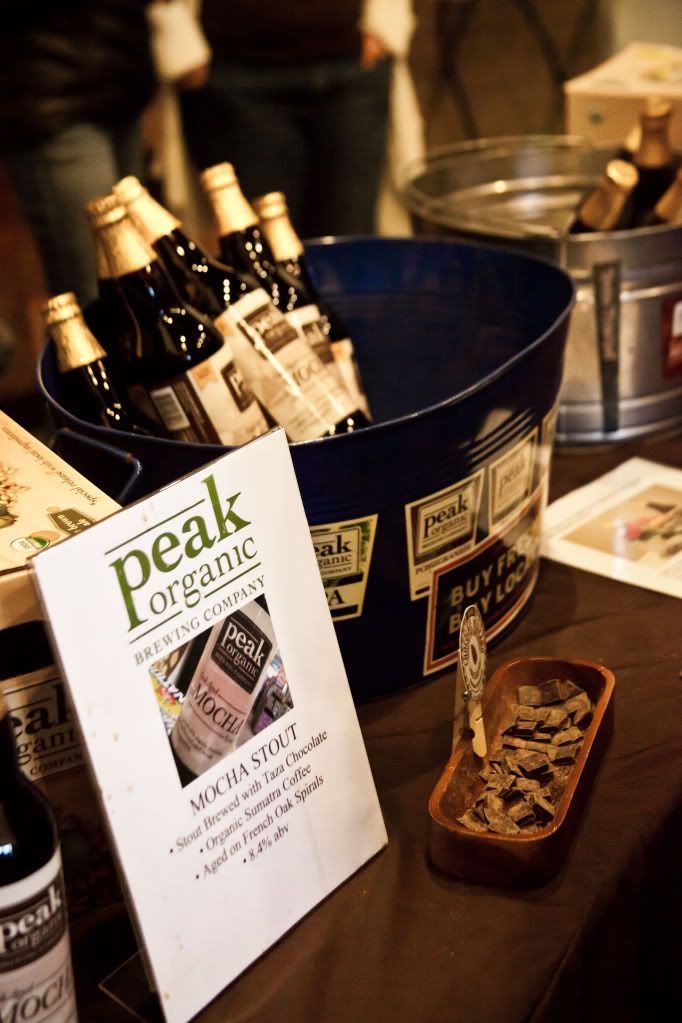 #3: Sixpoint The Crisp with Taza Mexicano Orange Chocolate
Sixpoint, out of Brooklyn, NY, just recently started canning their beers, so The Crisp pilsner arrived in a shiny, hipster-y, big boy can that you'd be proud to clutch as you belly up to even the craftiest of craft beer bars. It was paired with Taza's Mexicano Orange Chocolate to demonstrate that a light beer can stand up to cocoa flavors without being overpowered. The citrus notes in the chocolate also worked to mask the bit of bitterness of the pilsner at the end.
#4: Slumbrew Happy Sol with Taza Mexicano Ginger Chocolate
Our final pairing was Somerville natives Slumbrew's Happy Sol, a blood orange hefeweizen, and Taza's Ginger Chocolate. What sounded like a very interesting pairing unfortunately left us a little flat because the strong orange flavor from the last chocolate pairing was still very noticeable on our palates and flattened out the blood orange notes in the beer. A taste of the Mexicano Ginger Chocolate brought out some of that citrus we were looking for, however, and the two played nicely together. We'll be looking for Slumbrew's Happy Sol as spring keeps creeping our way so we can taste it unencumbered.